Shalakya Tantra - शालाक्य तंत्र
One out of the eight branches of Ayurveda, Shalakya Tantra deals with the etiology, diagnosis, prognosis, prevention and treatment of diseases that are located above the neck region such as the head, ear, nose, eye and throat. It is responsible for all types of problems in and around the head. The na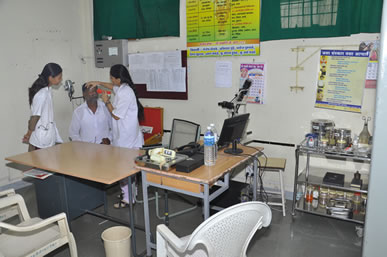 me of the branch is so called because of its excessive use of 'Shalaka', which means probe. In South India, the branch is also known by the name - Urdhwangchikitsa. The word can be broken into two parts - Urdhwang which means the body parts above the shoulder and Chikitsa which signifies treatment. In Shalakya Tantra, there are different types of probe that are included. Some of them are probe of the eye (netra shalaka), probe of the ear (karna shalaka), probe of the nose (nasa shalaka), of the throat (mukh shalaka) and of the lips (oshta shalaka).







Department of Shalakya Tantra (ENT, Ophthalmology & Oro-Dental)
Theoretical and clinical study of fundamentals of medicaments and surgical applications of diseases related to head, eyes, ears, throat, oral cavity, teeth, gums.
Well equipped procedure rooms for treatment of various ailments related to science.
Instruments & Equipments
1) Total number of instruments in OPD 109.
2) Total number of instruments in OT 407.
Super Specialty of Faculty
• Number of Books to be written in Department :
Student Dr.Pradip Ugale
 - Pajter Presevtation Tarpari Ayurved eye Rejunation.
• ROTP :
Dr.J. R. Dakhore
 - At. R.T. Ayurved College Akola,June 2011 (Maharashtra)
• Examination Panel :
 Dr. J. R. Dakhore
 - MUHS Nashik Panelk
 - Junior Superviser.
• Other Activities :
 Dr. J. R. Dakhore
 - M.S. Ayurved College shevgaon from 2004 to 2011
 - N.S.S. Teacher Since 2006 - Rognidan Shibir - Seminar

The List of Essential equipments / instruments / machineries / charts / models etc.