Fees Structure of 1st BAMS(UG) Course For A.Y.2023-2024. click here Required Documents list click here
Fees Structure of 1st MD/MS(PG) Course For A.Y. 2023-2024. click here Required Documents list click here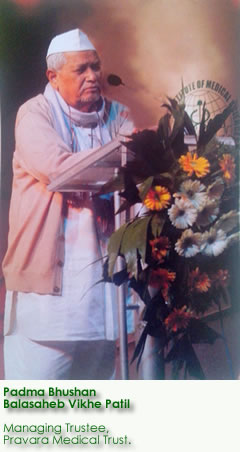 Think Globally – Act Locally
The spectrum of Pravara movement ,  is being carried ahead through , hard work and dedication by Padmashri's worthy son ,  Shri Balasaheb Vikhe Patil , the Hon'ble Chancellor of the Pravara Institute of Medical Sciences, Deemed University. What started as small step in 1949, soon developed into an approach that has since been widely recognized as "The Pravara Model of Integrated Rural Development" and has won national and international accolades.
While working with Padmashri, Shri Balasaheb Vikhe Patil, realized, the urgent need for the organized activities in many social areas to build a healthy, industrious and prosperous society. A comprehensive rural health care & education model, was the natural consequences of this realization. It is, with his untiring efforts, that turned Loni, a small village hamlet in to a vibrant township.
He is driven by Think Globally, Act Locally ideology. It is under his dynamic leadership, that Loni, of today stands testimony to the provision of quality health care to the varied society & testimony to the provision of excellent medical & paramedical education.
Useful Link wibsites & Social Media Platforms of Ministry Of Ayush/ Institutes.